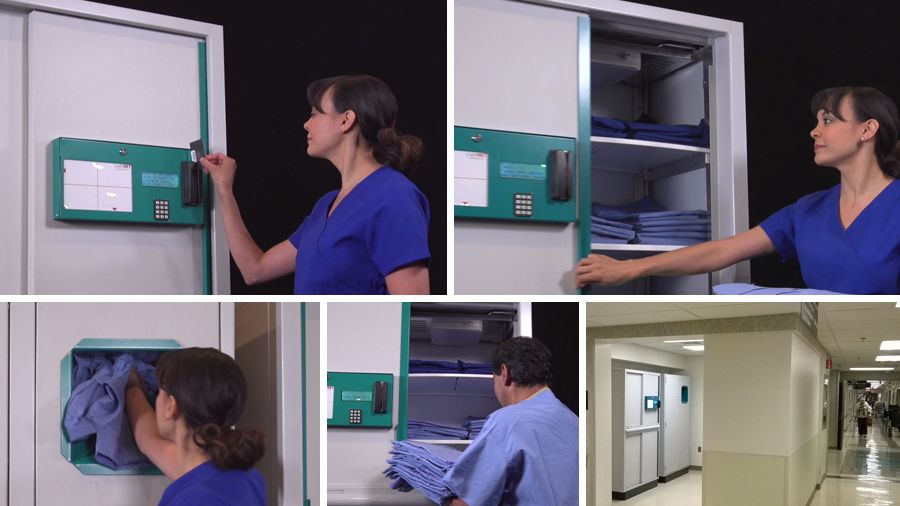 Scrub Dispenser
Affordable, Intelligent control of scrubs
CabiNet™ is the intelligent alternative to vended scrubs or open carts. CabiNet works with RFID chips fitted to each scrub item by your laundry.
CabiNet™ features sliding doors which don't block the hallway while in use
Fast to load – no pairing of items is necessary
Quick to use - no size entry is needed
To get a credit, users must return the exact same items they have taken
Separate unit for soiled returns
Managed by the DRESSCODE™ software portal
Each unit stores around 300 scrub pieces fitted with RFID chips in a compact 4ft x 2ft footprint (1200 wide x 600 deep).
All transactions are recorded and the entire system is managed by DRESSCODE™ which displays stocks in real time and issues automated alerts if levels fall.
To find out which laundries are already working with CabiNet™, contact us.
Use CabiNet™ for your customers
If you supply scrubs to hospitals, losses – and who is responsible - will be a common topic in your conversations.
Improve the dialog by offering CabiNet – the affordable way of making users accountable for what they take. Go to our Strategic Partners page for further details.
HandCraft Services, USA
"CabiNet™ answers the demand for an affordable scrub dispenser and allows us to better serve our clients with and intelligent solution uing RFID"
— Curtis Nichols, Director of Business Development
Lewis Gale Med Centre, USA
"Users appreciate the flexibility CabiNet™provides, but know they have to return whatever they have taken — not any scrub but the one they took"
— Sean Paris, Director EVS