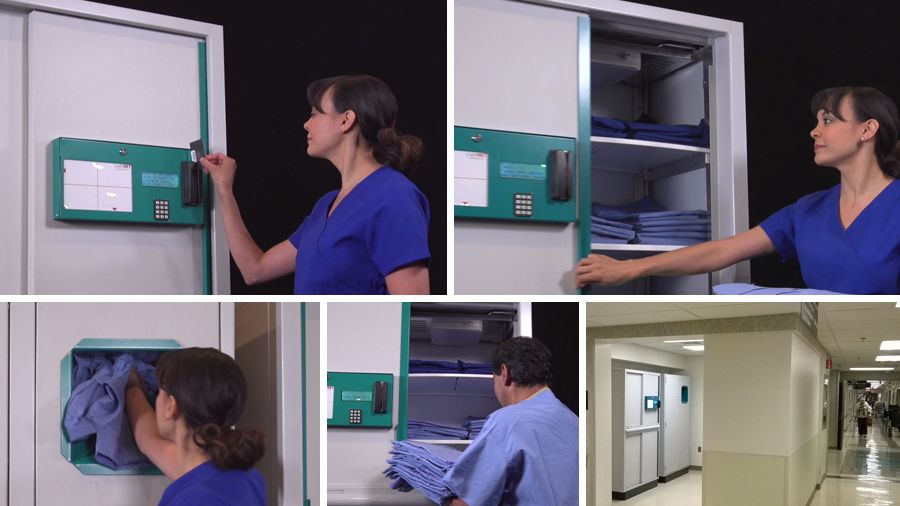 Scrub Dispenser
Affordable, Intelligent control of scrubs
CabiNet™ is the intelligent alternative to vended scrubs or open carts. CabiNet works with RFID chips fitted to each scrub item by your laundry.
CabiNet™ features sliding doors which don't block the hallway while in use
Fast to load – no pairing of items is necessary
Quick to use - no size entry is needed
To get a credit, users must return the exact same items they have taken
Separate unit for soiled returns
Managed by the DRESSCODE™ software portal
Each unit stores around 300 scrub pieces fitted with RFID chips in a compact 4ft x 2ft footprint (1200 wide x 600 deep).
All transactions are recorded and the entire system is managed by DRESSCODE™ which displays stocks in real time and issues automated alerts if levels fall.
How can I work with CabiNet™?
An ever increasing number of laundries now include CabiNet with their service offer.
You can also contact our partner Medline in the US and Canada. Elsewhere, contact us for further information.
Did you know? CabiNet is being used for much more than scrubs. Linen, lab coats, workwear, microfiber and hanging uniforms are just some of the many items that can be tracked and dispensed with CabiNet.
Use CabiNet™ for your customers
If you supply scrubs to hospitals, losses – and who is responsible - will be a common topic in your conversations.
Improve the dialog by offering CabiNet – the affordable way of making users accountable for what they take.