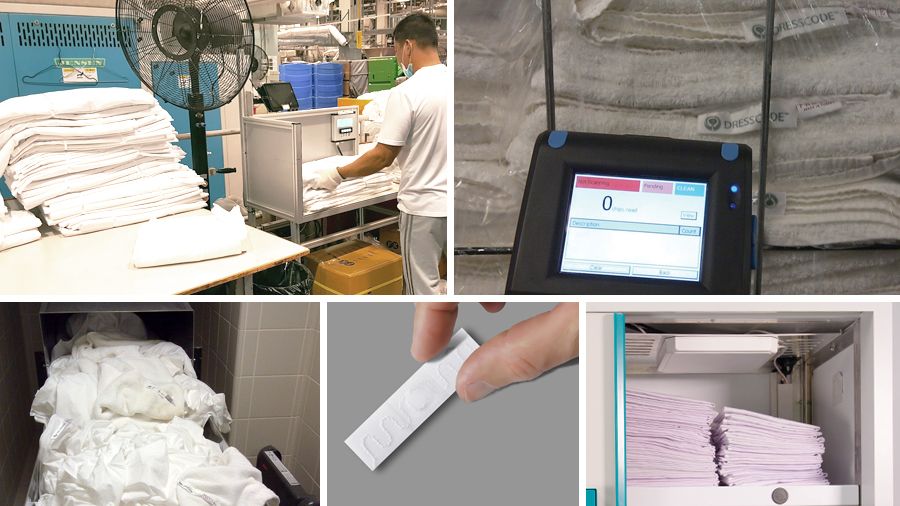 RFID Linen Tracking with DRESS
CODE

™

Stopping loss at the laundry

Your linen is most at risk of loss when it is sent to the laundry. Autovalet provides the tools that can prevent that happening.

RFID chips are now commonly attached to linen articles and by using our DRESSCODE™ software and mounting scanners at strategic locations, you can track linen as it circulates between the property and the laundry.
Labor saving – stop counting linen in and out and free-up attendants' time for stock-takes
Losses – hold your laundry to account and back-charge them for items not returned
Budgeting – see true stock levels and buy what you need – not what you think you need
Automated Scanning
For maximum efficiency, scanning of linen at the property should be automated. This can be made possible if your laundry also uses DRESSCODE™ within their plant to scan and track the linen.
Budgeting
Once your linen inventory is fitted with chips, the true par level for each item becomes visible. For the first time, you will have a complete picture of current stocks and what you need to buy – an invaluable aid for budgeting.
Stock takes will become simpler and almost labour free as DRESSCODE™ will count linen during normal circulation and by using handheld scanners.
Alton Towers, UK
"Management really appreciate the detailed financial information that we can now give them"
Mandarin Oriental, Hong Kong
"RFID tracking requires no extra labour but gives us so much more information. I can check my cleaning bills and make sure I get every garment back. We hope next year to extend the system to track linen as well."